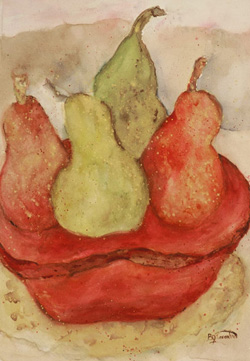 Just Pears (2003) - View Gallery

Philosophy:

My watercolors are from my heart. Some days I am drawn to painting realistically. I might feel compelled to capture a still life as in "Just Pears" or paint en plein aire creating a "Lynnette's Garden". Other times, I begin painting abstractly without a set idea, using technique and intuition to guide me. The painting then presents itself as in "Misty Mountains".

Whatever the interest of the day, if the painting causes me to feel happy about life, then I've done good work. Hopefully, that happiness spreads to someone else, and the painting evolves from good work to good energy.

I am currently enrolled in the Saybrook University Expressive Arts Program in San Francisco California. I will attend classes 3 weeks per year for a 2 year period.

If you would like to know more about this program please visit www.saybrook.edu. You will find information about Expressive Arts under the certificate programs.

Philanthropy Statement.:

In 2010, I had a great deal of requests for donations of my paintings for fundraisers. I am happy to be able to help others through my artwork.

The first benefit took place on October 9th for Justin Parrott and his sweet, young family. How hard for all of us to see such a wonderful young man in need of help from neighbors and friends! The benefit was a huge success!
I donated Mexican Garlic for this event.

The next auction is for Sophia¡¯s Hearth, an agency that cares about the nurturing of our young children. My old friend Kathy Cox is on their board and
I was proud to donate Just Corn for this event.

On Sunday, November 7th, at Alyson¡¯s Orchard in Walpole, NH, the 13th Annual Empty Bowl Dinner & Auction took place. This event is one of my favorites as it benefits Our Place Drop-In Center in Bellows Falls, VT. At this event we are served soup donated by various local restaurants and served by the students of Kurn Hatten School.
Beach Plum Roses was auctioned at this event.

Another one of my favorite events happened on November 13th at Bocelli¡¯s in Bellows Falls. It was a Raffle/ Auction for RAMP in Bellows Falls, Vt. This is a wonderful agency that promotes art and artists in Vermont and is spear headed by the amazing Robert McBride.
Just Eggplants was one of fifty pieces raffled at this event.

My dear friend, Kathleen Hallenbeck purchased Peonies and will donate it to a fundraiser for The Glens Falls Hospital in Glens Falls, NY.

And last but not least, my good friend Sally Bulger, a board member for the Colonial Theatre in Keene, NH. asked me to paint a birdhouse for an event entitled: Birdland. to be held on November 20th at the theater. Birdhouses were donated and given to local artists who then embellished them. I had not painted with acrylic paint in over 20 years! What fun! A picture of each birdhouses was listed in a brochure accompanied by an artist¡¯s inspiration statement. Mine reads as follows:

HOLY NASTURIUMS
I love this beautiful church birdhouse, complete with a steeple, which was chosen for me to embellish. I wanted the birdhouse to reflect my love of bright and bold colors. I chose to spray paint the entire birdhouse with ¡°Canary Yellow ¡° paint. I then went to my garden for inspiration. Once there, I found beautiful and bright Nasturtiums climbing towards the light. The Nasturiums were the perfect flower to represent on the birdhouse. I chose to paint them all the way up to the top of the steeple. They too, like the imagined parishioners inside, are naturally reaching upward toward the light.